Cultivate is about choosing the path that suits you and your business!
With 20 full length classes, you will finish the course with a comprehensive plan for building a monetized, marketable brand.
The first classes are all about You! You have a lifetime of valuable knowledge, skills and expertise and our Expertise Worksheet will help you inventory them and find opportunities to monetize them. Then we move onto your story (or stories). Great storytelling is one of the most critical skills in marketing and Cultivate helps you find your story and tell it effectively.
With your story and expertise down, we move onto analyzing your audience. Who they are, where they are and what they will pay for you!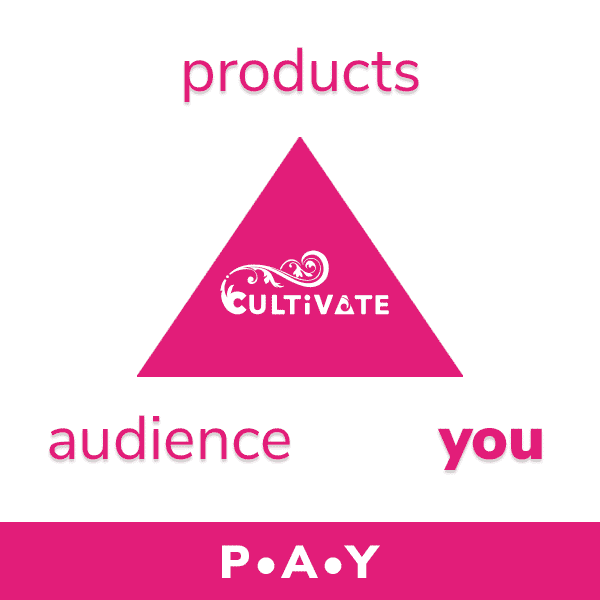 And with those foundations in place, we get down to business, building your audience and curating your product range. Cultivate considers products to be any packaged thing - digital or physical - that you get paid for. For example - subscription boxes, gift sets, books, coaching packages, video classes, apps or curated information.
You'll learn how to create a signature program - a curated collection of these products that reflect your brand. I show you the alchemy I use to turn research into video classes (like this one!) quickly and we walk through your options for making video. If you're not comfortable on camera, I show you alternatives like animated videos.
To host the program, Isaac walks you through building your own secure membership site from start to finish without expensive software or services. That means you have a place to sell and host classes, resources and paid products that is password protected for your customers and will handle their payments. Your very own selling platform where you set the rules!
The third part of the course is all about marketing. In 2018, building an audience is an unavoidable part of selling online. Outside of Amazon and eBay, organic reach is limited - which means that you will need marketing skills to bring people to your website or selling platform. We show you the methods that have worked for us, building Facebook groups, growing a following on Instagram, creating YouTube videos, coaching, public speaking and more! We even show you how to create lead magnets and challenges to keep your audience interacting with and enjoying your brand. Of course, we also walk you through running an advert on Facebook in 2018. Learn what all those objectives mean and how to use them!
Our marketing classes don't stop there though. We studied high level reports from professional marketing managers to find the most effective, exciting technologies in marketing and produced two groundbreaking classes on Gamification and Chatbots. Gamification will give you a whole new perspective on creating addictive, engaging content and products. In this intense class, you'll learn why Zynga games, Facebook notifications and Starbucks for Life keep you coming back whether you want to or not - and how you can use the same tactics.
Our Chatbot class has been described as worth the price of admission alone. This class walks through building a simple bot from start to finish. Use them to automate your Facebook messenger, handle customer service queries, run promotions and contests, deliver information and even order pizza! If you've been using email lists, you may switch to messenger bots after you've watched this class. How many unopened emails are in your inbox? How many get stuck in promotion folders and spam filters? Messenger bots send messages directly to your customer's Facebook inbox. Sounds spammy? We'll show you why they're not and why your customers will enjoy interacting with them. My bot gets dozens of queries a day - FROM customers. My customers are coming to me, not vice versa! That's 'inbound marketing' - a philosophy I love. Providing content and products that are so good your customers seek you out.
After you have finished this course, we believe you will have a powerful, bulletproof plan for your business. Our goal is that you finish with solid foundations, amazing products, a powerful marketing strategy and a dedicated niche audience who will fall in love with your brand and want to buy from you again and again.